Hebei Huipin Machinery Co.,LTD
Tel: +86-312-2727088
Fax: +86-312-2621678
Phone: +86-18631226706
Email: info@oilmillchina.com, oilmillchina@yahoo.com
Production factory address: North town development zone of DingZhou, Hebei province.
Model YZY290 All-weather Oil Press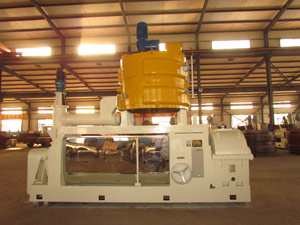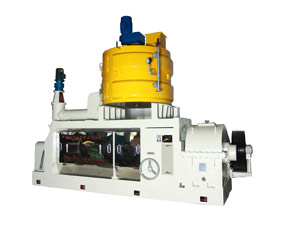 Daily production capacity: pressing 80-100 Ton, prepressing 180-240 Ton.

ModelYZY290 preliminary oil press has two functions: pressing and prepressing, under the condition of normal pretreatment, main performance characteristics are as follows:

1.With a large handling capacity, the workshop covers an area of smaller, low power consumption, reasonable and generous appearance.

2.The cake structure prepressing loose but not scattered, iadvantageous to the solvent penetration.

3.The oil and water content in cake, and is suitable for solvent leaching

4.The barrel screw using light pressure, regular pressure, the pressure step by step and other advanced technology, low residual oil in cake.

5.The cake checking mechanism adopting the worm gear and worm patent technology, no need to stop, easy and quick for calibration and adjustment.

6.Extracting cage has the design of ear plate opening and closing, easy to assembly and maintain, reduce labor intensity.

7.Using labyrinth seal for the end face of pressing bolts, Solve the problem of pressing bolts junction surface and dregs seeping.

8.The quality of pressed oil refining rate is high.

9.The machine quality and the yield of extractor fit well.

10.Pressurize progressively, to reverse material in a pressurized state, can effectively solve the problem like difficult to press of corn germ, dry coconut, rapeseed such oil plants.

Matching motor: Y315M1-6-132KW(Main mortor)

7.5KW EWFL87-34.5-Y-7.5/4(Reducer)

3.0KW BLY18-17(Reducer)

2.2KW XWD3-11(Reducer)

Cake thickness:15-20mm

Dimension: 5100×2100×3930mm

Net weight: 14500kg